BEST PRICE GUARANTEEOn Many Items

SECURE SHOPPING
256 bit SSL Security

EXPERT ADVICE
We're happy to help

PAYMENT METHODS
Stages Power L - Shimano GRX RX810 Gen3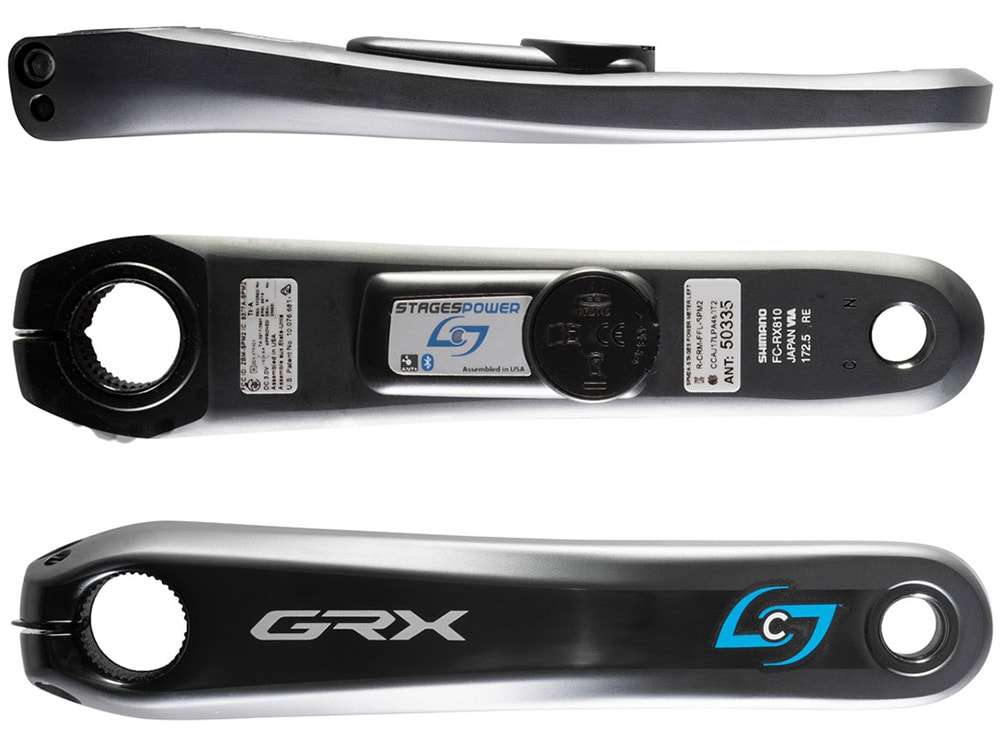 Prices incl. VAT plus shipping costs
Delivery time 150-180 Days
Item No.:

SW10967.1

EAN:

0818889024136

MPN:

GRXL-D
New Shimano Gravel GRX RX810 with improved Gen3 power meter! Stages power meters are...
more
Stages Power L - Shimano GRX RX810 Gen3
New Shimano Gravel GRX RX810 with improved Gen3 power meter!
Stages power meters are positioned discretely on the inner side of the left crank arm, weighing in at a mere 15g. It's accurate (±1.5%) and easy to install. Stages power meter always come mounted to the left crank arm. So all you have to do is find the model, which is compatible with your existing crank set and simply swap the left crank arm. Stages Power has a wide range of adaptation over the bike industry's aluminum crank models.

For Shimano GRX RX810 gravel bike riders we offer a Stages Power meter as a non-drive crank arm replacement for existing Shimano GRX RX810 model cranks. Riders looking to add power to their existing crank need only select length.
Frame compatibility
Since the power meter is placed on the inside of the crank arm, a clearance of at least 10mm between crank and chain stay / direct-mount brake is needed. Especially bikes with direct-mount brakes may cause problems.
To ensure your bike is compatible with the Stages Power Meter, please perform a simple check with a 10mm hex key:
Specifications
Sensor Location:

left crank arm

Accuracy:

± 1.5%

Weight:

adds 15gr to left crank arm

Battery Life:

200+ hours (CR2032)

Battery Replacement:

Tool free

Wireless Technology:

ANT+, Bluetooth Smart Ready

Firmware Upgrades:

yes, wireless

Compatible Software:

Training Peaks, Strava, Garmin Training Center and others

Power Range (Watts):

0 to 2500

Cadence range (rpm):

20 to 220

Crank Compatibility:

Shimano GRX RX 810 (Hollowtech II)

Available lengths:

170, 172.5, 175mm

Active temperature compensation

Accelerometer based cadence measurement
In the pack
✔ Stages power L Gen3
✔ Left crank arm
✔ Battery
✔ Manual
Read, write and discuss reviews...
more
Customer evaluation for "Stages Power L - Shimano GRX RX810 Gen3"
From:
Thomas R.
On:
24 Mar 2021
Sehr gutes Preis-Leistung...
Sehr gutes Preis-Leistungsverhältnis.
From:
Hendrik S.
On:
21 Mar 2021
Fahre bereits den Stages ...
Fahre bereits den Stages PowerMeter Generation 3 in der Ultegra Ausführung auf meinem Rennrad. Wollte jetzt auch gerne für mein Gravelbike einen Leistungsmesser und habe mich aufgrund der positiven Erfahrungen wieder für einen Stages entschieden. Er liefert zuverlässig Leistungs- als auch Trittfrequenzwerte. Montage ist kinderleicht (notwendiges Werkzeug vorausgesetzt) und innerhalb weniger Minuten ist der PowerMeter einsatzbereit. Wie er sich im Regen schlägt, weiß ich noch nicht, aber da er wasserdicht ist, erwarte ich hier nichts negatives. Alles in allem ein top Produkt!
From:
Christian M.
On:
19 Mar 2021
toller Shop, super Servic...
toller Shop, super Service
From:
Roland S.
On:
19 Mar 2021
Zum Produkt nur eins geni...
Zum Produkt nur eins genial. Shop hervorragend so kauft man gerne. Lieferung top. Hier komme ich gerne wieder vorbei
From:
Christian M.
On:
23 Feb 2021
toller Shop, super Servic...
toller Shop, super Service
From:
Robert K.
On:
22 Feb 2021
fast zu schnell und alles...
fast zu schnell und alles super
From:
Robert K.
On:
21 Feb 2021
fast zu schnell und alles...
fast zu schnell und alles super
From:
Jan M.
On:
31 Jan 2021
Schnelle, problemlose Lie...
Schnelle, problemlose Lieferung.
From:
Uwe
On:
16 Jan 2021
Stages und Powermetershop gut
Die Stages Powermeter kannte ich schon längere Zeit vom der XT Version am Mountainbike und hatte deshalb auch keine Bedenken die GRX Version zu kaufen. Funktioniert wie erwartet. Im Gegensatz zu den Garmin Vector Pedalen gibt es bei den Stages Produkten keine Aussetzer wegen eine ungenügenden Batterielagerung.

Den Powermetershop kannte ich bisher noch nicht, aber die schnelle Bearbeitung zwischen Weihnachten und Neujahr hat mich überzeugt.
From:
Amir Masoud H.
On:
9 Jan 2021
Bis Jetzt bin ich sehr zu...
Bis Jetzt bin ich sehr zufrieden mit dem Powermeter.
Hatte bis jetzt aber erst wenige Fahrten (ca. 100Km). Ich bin kein Lesitungssportler, Fahre ca. 90-100 Km /Woche als Fitness. Das ganze etwas Sportlicher. Da ich fast immer alleine fahre möchte ich meine Leistung genau im Blick behalten um meine Fortschritte auch dokumentieren zu können. Daher auch "nur" eine einseitige (deutlich günstigere) Powermeter - Belegung. Mehr brauch ich stand jetzt nicht.
Mein Fahrrad: Canyon Grail AL 7.0 mit RX-600 Kurbel. Die Kurbel passt auch an ein RX-810.
Bevor man die Kurbel anbringt muss man die Batterie startklar machen. Also Kappe (bei mir auf "Open") komplett öffnen und ab, Lasche weg und die Kappe zu drehen. Das lässt sich leider sehr schwer einrasten. Aber mit viel Vorsicht ging es dann doch mit einem mini Schlitzschraubendreher.
Zum Wechseln der Kurbel braucht man einen Stern-Schlüssel von Shimano aus Plastik (ca. 5€) und einen Drehmoment- Schlüssel, + übliches Fahrradwerkzeug. Anleitungsvideos gibts auf YT genug. Wechsel ging sehr gut. Firmware war bereits bei Ankunft aktuell. Dazu muss man vorher auf Smartphone "stagespower" App runterladen, Verbindung klappt problemlos mit Bluetooth. Firmware wird auch so aktualisiert. Über "Tools" Hygrometer aktivieren (braucht man um die Cadence über die Kurbel zu messen)
Die Verbindung zum Fahrrad-Computer (bei mir ein Wahoo) geht problemlos. Zuvor leicht die Kurbel betätigen, damit diese aktiviert ist (schaltet sich zwecks Energie sparen eher rasch wieder aus). Dann Stages auf 18:00 Stellung bringen, Zero-Reset über Smartphone vollziehen. Das wars.
Ich dachte wenn ich die Kurb per Hand betätige werden Werte gemessen. Geht aber nicht. Sobald man sich aufs Bike setzt und losfährt werden die Daten dann aktualisiert. Leistung und Cadence werden dann angezeigt.
Bei mir hat das bis jetzt super funktioniert. Ich finde den Powermeter super. Sehr gute Konnektivität, zig Werte über die Leistung, bis jetzt keine Verbindungsabbrüche, Ich hoffe die Stages ist ausreichend Wasserfest. Werde natürlich nicht mit einem Hochdruck -Strahler dran gehen. Alles in Allem zwar ziemlich kostspielig aber super nützlich.
Der Versand von Powermetershop war ohne Tadel. Sehr schnell und unkompliziert. Dieser Shop ist übrigens einer der sehr wenigen im Netz der überhaupt diesen Powermeter in allen drei Längen anbietet und ich meine der einzige der die Kurbel innerhalb con 3 Werktagen verschickt. TOP!
From:
Alexander F.
On:
5 Jan 2021
Schnelle Lieferung und ei...
Schnelle Lieferung und ein perfektes Produkt
From:
Frank Z.
On:
10 Nov 2020
Hatte den Stages schon f?...
Hatte den Stages schon für die Ultegra - Passt bei der GRX genau so gut und harmoniert perfekt mit meinem Wahoo Computer...
From:
Michael H.
On:
26 Mar 2020
Works as expected, clear ...
Works as expected, clear mounting instructions - simple companion App (IOS) for FW Update
Write an evaluation
Evaluations will be activated after verification.
Recommended Products
€221.99
€284.00